Vision (Why are We Here?)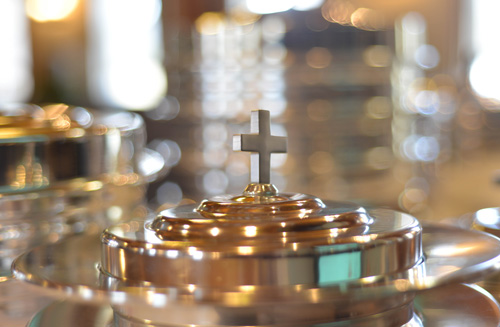 At Ferndale, we recognize that we do not determine our own mission and vision. Our responsibility is to understand God's clear revelation of His mission to His Church from His Word, and then with God's guidance to discover how to apply His mission within our unique cultural and ministry context. While there are many New Testament Scriptures that reveal God's mission for His Church, there are three key Scriptures that have guided us in defining vision:
The Great Commission
Then Jesus came to them and said, "All authority in heaven and on earth has been given to me. Therefore, go and make disciples of all nations, baptizing them in the name of the Father, and of the Son, and of the Holy Spirit and teaching them to obey everything I have commanded you. And surely, I am with you always, to the very end of the age." (Matthew 28:18-20)
The Great Commandment
Jesus replied, "Love the Lord your God with all your heart, and with all your soul, and with all your mind. This is the first and great commandment. And the second is like it, 'Love your neighbor as yourself.' All the Law and the Prophets hang on these two commandments." (Matthew 22:37-40)
The Great Example
They devoted themselves to the apostles' teaching and to the fellowship, to the breaking of bread and to prayer. Everyone was filled with awe, and many wonders and miraculous signs were done by the apostles. All the believers were together and had everything in common. Selling their possessions and goods, they gave to anyone as they had need. Every day they continued to meet together in the temple courts. They broke bread in their homes and ate together with glad and sincere hearts, praising God and enjoying the favor of all the people. And the Lord added to their number daily whose who were being saved. (Acts 2:42-47)
These three passages describe a community of people transformed by the grace and love of God, who are deeply committed to living a life of love and grace, and who are passionate about transforming their world with the message of Jesus Christ. Here is how we summarize these foundational Scriptures in our vision statement:
To honor God by being a community of Spirit-filled servants of Jesus who know, grow, and show God's love.
In order to foster this vision, we have embraced an organizational model that includes these three elements:
ONE CHURCH – One church governed by one leadership, a common vision and values, and a common ministry strategic plan.
SEVERAL CONGREGATIONS – Several congregations meet weekly, on Sunday, for worship at different times, with unique musical expressions, with unique styles, with the same message from God's Word.
MANY CELLS – Small groups meet throughout the week for the purpose of fostering authentic relationships with the common goal of growing into Christ-likeness.
At Ferndale, we believe that our real ministry exists outside the walls of our building. Our activities within the walls exist to enable and equip us to live faithful and fruitful lives in our homes, community, and world so that people will know that Jesus Christ is Lord.

Values
With our mission and vision in view, these are the key values we embrace as a community of people who deeply desire to be Spirit-filled servants of Jesus:

We value the Word of God as our sole authority for belief and practice.
We value the Gospel message of Jesus Christ and its essential need to be personally embraced and proclaimed in our homes, our community and world.
We value the need to engage in authentic community with other believers by knowing and being known, loving and being loved, serving and being served.
We value the need to keep the unity of the Church by building one another up through godly words and deeds.
We value the worship of God through our congregational and small group gatherings, and as a way of living every part of our individual lives.
We value our need to develop strategic partnerships with other Christian organizations for the advancement of the Kingdom of God in our community and world.
We value our need to engage and serve our community through a variety of creative means to help us to develop relationships with people outside the church.